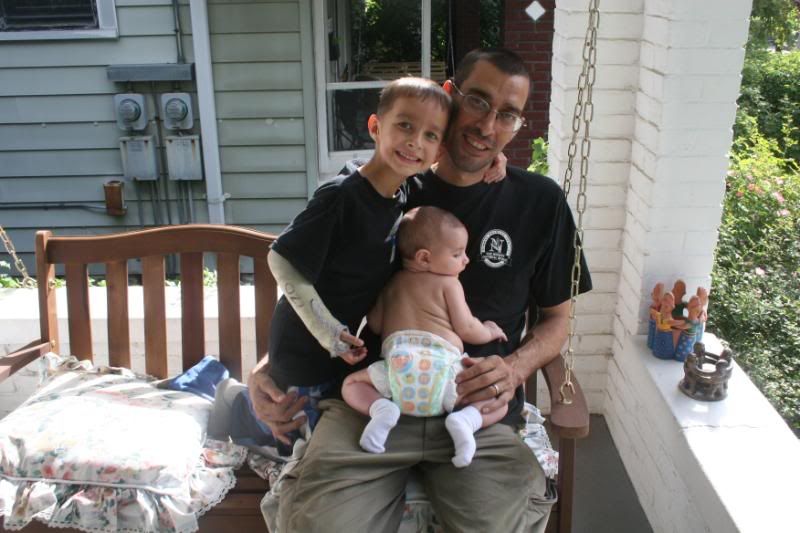 Hi!!!!
I don't know if I've yet mentioned our wonderful new Ethiopian, a natural processed Ethiopian Sidamo Korate -organic of course. It has a bunch of fruity flavors, mostly berry and some that are hard to identify. But they come through very strongly, accompanying a pleasant sweetness and some chocolate caramel flavor. I've been roasting it both medium and dark, and the dark roasts have really surprised me in how well the flavor comes through. Usually, in a darker roast, the fruitiness will be long gone, but in this bean it is obviously pronounced, leaving a nice rich full bodied cup. Give it a try when you're in... (french press recommended).
Upcoming:
1. Heidi Howe will be giving a special Family Concert Saturday, Sept. 6th, 4pm. She teaches Kids Rock! Music Classes at Louisville School of Rock in Industrial Park. Join us for this free afternoon show...
2. Mon (9/8), screening of "1932: Speak Not of Parties But of Universal Principles" Lyndon Larouche's film about a political journey through the history of the United States.
3. Tuesday (9/9), our Bluegrass Jam continues. 8pm to midnight...the first two weeks have gone really really well, with great turnouts and plenty of good music, so grab an instrument, or just show up to have a beer, coffee, tea, etc and watch...
3. Weds, 9/10...A Special Event with a filmmaker from Durham screening their film at 8:30, followed by a short Q and A, and then their band (also from Durham) plays a set, then our own Julia's band plays from 10:30-close. The film is called "Seeing Through the Fence" and is a grassroots documentary about veganism, animal rights, and human responsibility. Their band is called Beloved Binge and reminds me a little of both the B-52's and the Violent Femmes.
Julia's Band is "Say Darlin' Say" - they are a mix of bluegrass and old-time. All women, playing Banjo, Fiddle, Mando, guitar and lots of harmony vocals. They don't play out often, so don't miss this show!! Best yet, it is all FREE!!!!
4. And a new great band playing friday night...I'll tell more about them shortly! (There name is Break Zero, and they'll be playing BOTH friday and saturday nights!!)...kind of acoustic grunge - hard to categorize, but original music mostly....
G'night
-nimbus